Cooling Tower Repair
Is your cooling tower malfunctioning or not running as efficiently as it once did? Landover offers a full array of cooling tower repair services to address every issue your unit may be experiencing. Additionally, we address all your cooling towers repair issues with urgency and efficiency- regardless of the scale.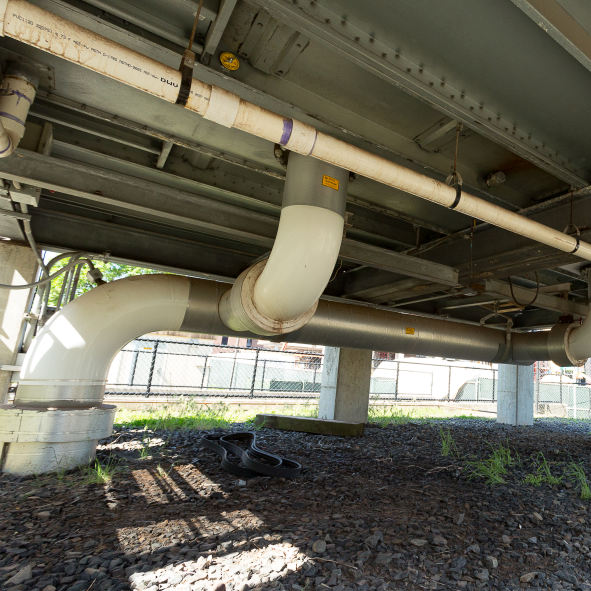 A Landover Cooling Tower Repair at the New York City Board of Education
New York City, NY
Our Repair Process
Inspection, Assessment, Correction and Testing
Our cooling tower repair process begins with a thorough inspection of the unit. Through this process, we hone in on the root cause of the issue and any subsequent ones. Once we've diagnosed the problem, we will acquire the necessary parts to fix the unit. Our technicians are factory trained to repair issues specific to BAC, Marley, and Evapco machinery. Finally, we'll test the repairs to ensure that your unit's operating efficiency is fully restored.
Cooling tower repairs are customized to your individual tower design and specifications.
Cooling Tower Rebuilds & Refurbishes
Whether you're having issues with your hot water basin or crossflow and counterflow, our technicians will get to the root of the problem. Our repair service is to the point and will leave your cooling tower performing at its peak efficiency.
A cooling tower refurbish enables your building to preserve the functioning aspects of your current cooling tower. As a result, cooling tower rebuilds are far more cost effective than replacing the entire unit. With access to our manufacturers, we'll acquire and replace dysfunctional parts, as well as ones nearing the end of their life cycle. Such replacements essentially upgrade your unit while extending its lifespan.
What Does Our Repair Service Include?
From minor tweaks to major parts replacements, our technicians are expertly trained in all facets of cooling tower repair and have the experience to perform the job efficiently.
Emergency Service
Water, winds, storms, power outages, and lack of maintenance can cause severe damage to cooling towers. Our emergency repair service was design to specifically addresses these catastrophic issues quickly and effectively.
Our goal is simple- minimize downtime and restore efficiency.
Start Protecting Your Investment Today!
From scheduled repairs to urgent emergencies, we've got you covered! Our experienced technicians will evaluate your cooling tower issues, create a plan to remedy the situation and restore your cooling tower to its full functional capabilities.
To learn more about our services or schedule an estimate, give us call at 908-654-8754 or email us and put our 25 years of cooling tower success to work on your tower.