Cooling Tower Installation
Whether you're working with a brand new structure or a cooling tower replacement, Landover Cooling offers a comprehensive installation service. We design, deliver and install the industry's most revered brands including BAC, Marley, and Evapco.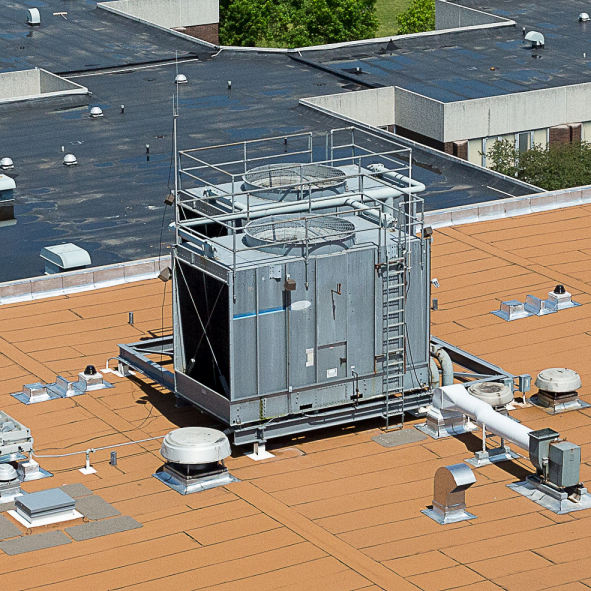 A Landover Cooling Tower Installation
Verizon, Bedminster, NJ
Our Installation Process
Every cooling tower install is unique. At Landover, we've created a flexible process that is tailored to your individual buildings' requirements. We begin by assessing your property, building and cooling requirements. We then help you select a cooling tower design, manufacturer and model that best meets your building's needs. We acquire and deliver all necessary components ranging from the casing panels and basins to the tower and mechanical hardware. Our technicians are factory trained by BAC, Marley, and Evapco to ensure expert installation of every unit.
What Does our Installation Service Include?
Our full-fledged installation service includes all necessary measures prior to and following the installation. Even more, we work to accommodate the installation around your individual design specifications. Our technicians perform the following services to ensure your cooling tower's installation is executed seamlessly and safely:
Requirement assessment and specifications
Order of tower including all components and hardware
Demolition and removal of the existing cooling tower
Crane work (hoisting and rigging)
Delivery of new tower (carry-up in necessary)
Assembly (include rooftop assembly)
Types of Installations
To best accommodate your building's individual needs, our technicians install every type of manufactured cooling tower. This includes...
Open Circuit and Closed Circuit
Crossflow and Counterflow
Induced Draft and Forced Draft
Factory Assembled and Field-erected
Benefits of Using Landover
Every Landover technician is a factory authorized contractor. This means, each technician is individually trained by the cooling tower manufacturer to install, maintain and service their cooling towers. With this specialization and reverence for quality in mind, we proudly stand behind every installation.
Installation Evaluation
Since every building has unique cooling requirements, our technicians will evaluate your building's specifications and cooling needs to develop the cooling tower requirements and specifications, selecting the optimal unit for your company. Blueprint installations can be provided post-evaluation.
Take The First Step
Give us a call today and get one step closer to having a brand new cooling tower that runs effectively and efficiently.
To learn more about our services, give us call at 908-654-8754 or email us and put our 25 years of cooling tower success to work on your tower.