Cooling Tower Maintenance
A regular and high quality cooling tower maintenance program increases your cooling tower's efficiency, extends its life, saves money, and satisfies newly regulated policies regarding Legionella testing. As part of this program, Landover offers the following services: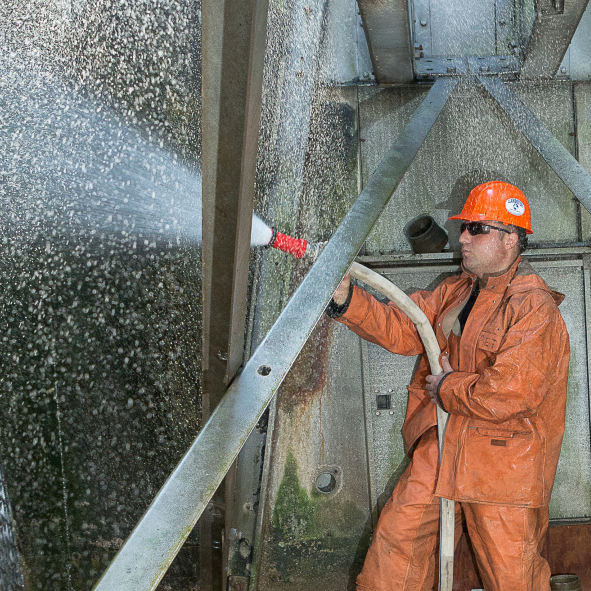 A Landover Cooling Tower Technician Cleaning a Cooling Tower at Rutgers, Piscataway, NJ
Cooling Tower Cleaning
Cooling towers get dirty! Algae grows inside the plenum of the tower. Air intake demands pull in the surrounding air and everything in it: dirt, debris, leaves, even small animals. Scale and calcium deposits can accumulate, causing interior damage and inefficient operation. A cleaning regimen helps flush out the debris and keeps your system operating efficiently.
Our Cleaning Process
Cooling towers need to be cleaned regularly to ensure they are working properly and efficiently. Our cooling tower cleaning service includes the cleaning of the sump (removing mud, debris, and scale), cleaning of the fill to allow air to flow freely and maximize the fill surface area for heat rejection, cleaning the nozzles on top of the tower, and power washing the entire tower.
Each cooling tower cleaning process is specific to your particular tower design.
The Benefits
Landover not only cleans the entire cooling tower unit but also performs a visual inspection of the unit with each visit. These inspections can uncover potential problems within the tower, ideally before the critical use of the tower. Taking a proactive approach to these issues reduce outages and long-term costs.
Plus, Landover offers a disinfection program in addition to our cleaning process, thereby keeping Legionella at bay.
Cooling Tower Disinfection
Why disinfect a cooling tower?
NY City Department of Health/ASHRAE 188 guidelines dictate that all towers in New York City must be disinfected from Legionella twice each year and tested quarterly. Landover is licensed to perform tower disinfection in accordance with these guidelines.
Cooling Tower Maintenance Programs
A cooling tower maintenance program guarantees that your tower is visually inspected twice a year, and could include bi-annual cleaning. During our visits we perform a general inspection of your cooling tower. Resolving problems before they occur minimizes costly emergencies by being pro-active and anticipating events which may cause problems or expensive system wide shut-downs.
Preventive Maintenance Service Call
During a PM visit we perform the following functions:
Inspect and tighten all mechanical hardware
Inspect all nozzles for clogs or damage
Remove and replace belts
Grease the bearings
Visually inspect shaft, bearings, fan and sheaves
Check sheave alignment
Inspect and align gearbox and motor
Change oil
We conduct a full visual inspection of the tower, including casing panels, hot water basins, cold water basins, fill, and all mechanical hardware associated with your tower.
Cooling Tower Evaluation
A complete report of the inspection findings will be provided upon completion of the inspection.
Start Protecting Your Investment Today!
Save money and protect your cooling tower investment with Landover's cooling tower maintenance, cleaning and service programs.
To learn more about our services, give us call at 908-654-8754 or email us and put our 25 years of cooling tower success to work on your tower.